10
20
Friday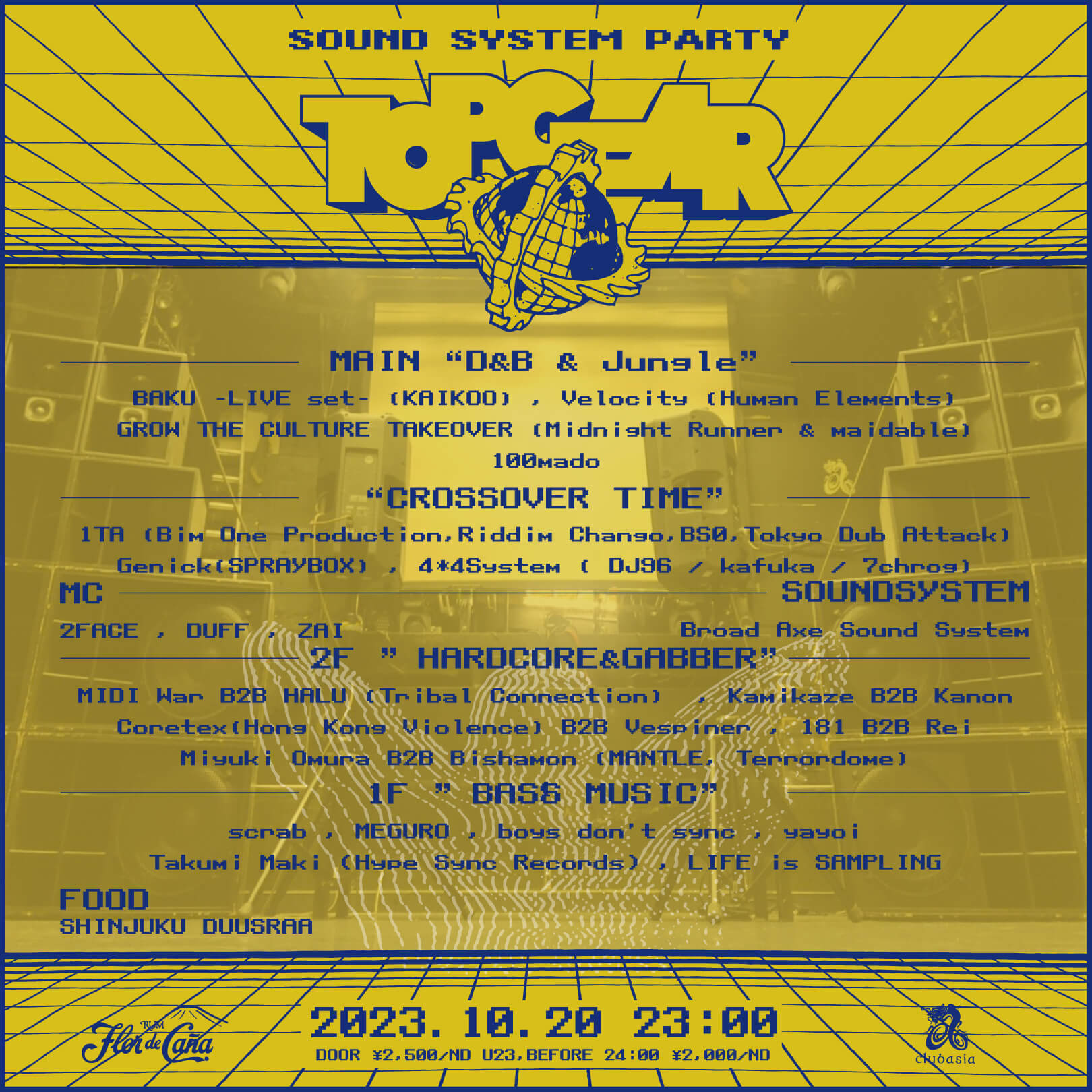 サウンドシステムパーティー ~TOP GEAR~トップギア、第4回目が開催決定!!
MAIN FLOORではOUTLOOK FESTIVAL JAPAN LAUNCH PARTYやBack To Chillなどで極上のベースを響かせてきたBROAD AXE SOUND SYSTEMを導入し、その圧倒的な重低音を体感できるフロアを形成。
また1F,2Fにおいても最大限にチューニングされた音響システムを用い、フロアを多彩に響かせる。
各フロアのジャンルは、
MAIN FLOOR:D&B & Jungle
2F FLOOR:HARDCORE & GABBER
1F FLOOR:BASS MUSIC
となっており、DJにはあらゆる現場で重低音を操る実績を持つマスター勢の参加にとどまらず、現在の東京アンダーグラウンドシーンに欠かせない強力な面々がジャンルや界隈を超え一同に集結!
ジャンルを越境したBassサウンドも堪能できる「Crossover Time」を設置。
UKG,BASSLINEをメインに幅広く多様に先鋭化する極太低音シーンの一端をサウンドシステムで体感!!
U23 | BEFORE24:00   ¥2,000/ND
サウンドシステムの素晴らしさを多くの人にぜひ体感して欲しい。
"TOP GEAR"
Sound System Party ~TOP GEAR~ The 4th time of Top Gear will be held!!
On the MAIN FLOOR, we have installed the BROAD AXE SOUND SYSTEM, which has produced the finest bass at OUTLOOK FESTIVAL JAPAN LAUNCH PARTY and Back To Chill, creating a floor where you can experience its overwhelming deep bass.
In addition, the 1st and 2nd floors also use a sound system that has been tuned to the maximum level, allowing the floors to resonate in a variety of ways.
The genre of each floor is
MAIN FLOOR:D&B & Jungle
2F FLOOR:HARDCORE & GABBER
1F FLOOR:BASS MUSIC
The DJs will not only be masters who have a proven track record of manipulating heavy bass in all kinds of settings, but also powerful people who are indispensable to the current Tokyo underground scene, regardless of genre or area, will be gathered together!
We have installed "Crossover Time" where you can enjoy bass sounds that transcend genres.
Experience a part of the ultra-thick bass scene that is becoming more and more diverse with UKG and BASSLINE as the main sound system!
U23 | BEFORE24:00 ¥2,000/ND
I would like many people to experience the wonders of the sound system.

■ ACT
□ MAIN(D&B & Jungle)
BAKU -LIVE set- (KAIKOO)
Velocity (Human Elements)
GROW THE CULTURE TAKEOVER (Midnight Runner & maidable)
100mado
□ Crossover Time DJ|UKG, grime,bassline
1TA (Bim One Production / Riddim Chango / BS0 / Tokyo Dub Attack)
Genick( SPRAYBOX )
4*4System ( DJ96 / kafuka / 7chrog)
□ MC
2FACE
DUFF
ZAI
□ Sound System
Broad Axe Sound System
□ 2F (HARDCORE & GABBER)
MIDI War B2B HALU (Tribal Connection) 
Kamikaze B2B Kanon
Coretex(Hong Kong Violence) B2B Vespiner
Miyuki Omura B2B Bishamon (MANTLE, Terrordome)
181 B2B Rei
□ 1F(BASS MUSIC)
scrab
MEGURO
boys don't sync
Takumi Maki(Hype Sync Records)
LIFE is SAMPLING
yayoi
□FOOD:新宿ドゥースラー
supported by Flor de Cana
《PRICE》
DOOR ¥2,500/ND
U23|BEFORE 24:00   ¥2,000/ND